sjögren europe
more visibility, attention and solutions for sjögren's syndrome
Sjögren Europe is a European Federation of Sjögren's Syndrome Patient Associations. Its purpose is to get more visibility, attention and solutions for Sjögren's Syndrome by promoting the advancement of knowledge, research, information, treatment and care, by fostering patient involvement and participation in the scientific research, medical, health and political institutions, pharmaceutical industry and social areas, and by increasing awareness about Sjögren's Syndrome at all levels.
next events
July, 23rd 2020
September, 13rd 2020
Sjögren Europe General Assembly (virtual)
November, 3rd 2020
"Sjögren's Right Now", webinar
To get regular news and information about us and our events, subscribe to our newsletter just below or follow us on Facebook or Twitter!
past events
June, 14th 2019, EULAR congress Madrid
Read a summary of our presentation at EULAR:
Oral presentation - PARE abstract session 1
General Assembly: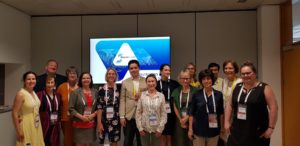 First General Assembly of Sjögren Europe with members representing Portugal, United Kingdom, Finland, Netherlands, France, Switzerland, Spain and Greece. Some members of the Medical Board were also present, such as Prof. Chiara Baldini, Prof. Hendrika Bootsma, Prof. Wan-Fai Ng and Dr Juan Ovalles.
The president of the Sjögren's Syndrome Foundation, Steven Taylor, was keen to participate in this historical event, which we hope will be a milestone of a new era for Sjögren patients in Europe and worldwide.