Sjögren Europe Live Webinar "Sjögren Now"
of November 3rd 2020 is now available on replay!
You can watch the webinar on replay just below or on our YouTube channel!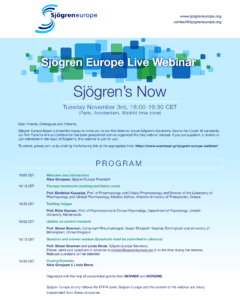 You can download the invitation and program pdf file here
Follow us on Facebook, Twitter and Instagram too or subsribe to our Newsletter (below) to keep up to date about us and our activities!
This webinar has been organized with the help of unrestricted grants from SERVIER and NORGINE. Sjögren Europe strictly follows the EFPIA code. Sjögren Europe and the content of the webinar are totally independent from these companies.
sjögren europe
more visibility, attention and solutions for sjögren's syndrome
Sjögren Europe is a European Federation of Sjögren's Syndrome Patient Associations. Its purpose is to get more visibility, attention and solutions for Sjögren's Syndrome by promoting the advancement of knowledge, research, information, treatment and care, by fostering patient involvement and participation in the scientific research, medical, health and political institutions, pharmaceutical industry and social areas, and by increasing awareness about Sjögren's Syndrome at all levels.
past events
September, 13th 2020 General Assembly
The General Assembly was originally planned in Athens during our 1st patient conference. Due to the  Covid-19 situation, the conference has been postponed and this Assembly was organized virtually with Zoom. The General Assembly is for Members to discuss the organization and its activities. This meeting was open to observers. You can find below the draft of the Minutes of this meeting.
July, 23rd 2020 World Sjögren's Day
Have a look at our campaign about the invisibility and the burden of Sjögren's on our specific webpage. Sjögren's is a multifaceted and polymorphous disease. It's a real burden. To live with Sjögren's is a journey: we all have our own path and have to walk it by ourselves; but we are not alone. Keep going, at your own pace. If you can, connect to yourself and connect to others in a meaningful way. We want to acknowledge the difficulties of the disease while having a constructive attitude.
"We are like islands in the sea, separate on the surface but connected in the deep"
William James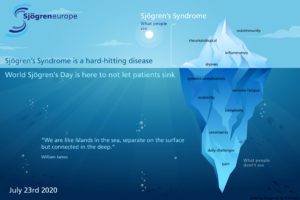 June, 14th 2019, EULAR congress Madrid
Read a summary of our presentation at EULAR:
Oral presentation - PARE abstract session 1
General Assembly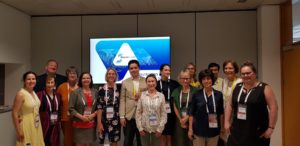 First General Assembly of Sjögren Europe with members representing Portugal, United Kingdom, Finland, Netherlands, France, Switzerland, Spain and Greece. Some members of the Medical Board were also present, such as Prof. Chiara Baldini, Prof. Hendrika Bootsma, Prof. Wan-Fai Ng and Dr Juan Ovalles.
The president of the Sjögren's Syndrome Foundation, Steven Taylor, was keen to participate in this historical event, which we hope will be a milestone of a new era for Sjögren patients in Europe and worldwide.