sjögren europe
more visibility, attention and solutions for sjögren's
Sjögren Europe is a European federation of national associations representing Sjögren's patients. Its purpose is to get more visibility, attention and solutions for Sjögren's by promoting the advancement of knowledge, research, information, treatment and care, by fostering patient involvement and participation in the scientific research, medical, health and political institutions, pharmaceutical industry and social areas, and by increasing awareness about Sjögren's at all levels.
e-leaflet

Do you want to know the basic information about Sjögren Europe? This e-leaflet is for you! Click on the picture below to read it: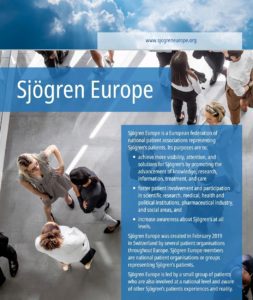 This e-leaflet has been realised and published in 2021
This e-leaflet has been realised with the help of unrestricted grants from SERVIER, NOVARTIS and NORGINE. Sjögren Europe strictly follows the EFPIA code. Sjögren Europe and the content of the e-leaflet are totally independent from these companies.
video
Check below the video about us that we made for Sjögren's Awareness Month in April 2021.
Sjögren Europe was created in February 2019 by the patient organisations of Finland, France, Greece, Italy, Netherlands, Portugal, Spain, Switzerland, United Kingdom and the support of the informal association of Belgium. The headquarters of Sjögren Europe are in Switzerland and the first General Assembly was held in Madrid in June 2019 during the EULAR congress where Sjögren Europe was officially introduced to the rheumatology community.