"more visibility, attention and solutions for sjögren's"
world sjögren's day 2022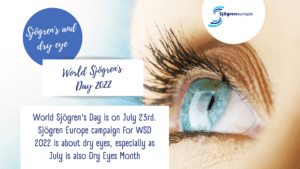 World Sjögren's Day is on 23 July. This year our campaign will focus on dry eye, especially as July is also Dry Eye Month.
Check our dedicated webpage to know more about our campaign. Stay tuned!
webinar about dry eyes
Tuesday, July 5th 2022
To initiate World Sjögren's Day 2022 campaign, we organised a webinar about dry eyes!
This webinar will be held on Tuesday, July 5th 2022 with Dr Ankur Barua, Ophtalmologist, in association with the BSSA.
Please check the appropriate time for your time zone:
18:00 BST (UK, Portugal)
19:00 CET (France, Spain, Switzerland)
20:00 EEST (Greece, Finland, Romania)
Click on the picture below to register. And stay tuned!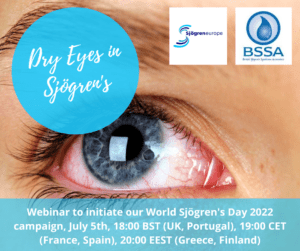 This webinar will be organized with the help of unrestricted grants from Janssen, Norgine, Novartis and Servier
Sjögren Europe strictly follows the EFPIA code.
Sjögren Europe and the content of the webinar are totally independent of these companies.
disclaimer
All content and media on this website is created and published online for informational, educational and awareness purposes only. It is not intended to be a substitute for professional medical advice and should not be relied on as health or personal advice.
Always seek the guidance of your doctor or other qualified health professional with any questions you may have regarding your health or a medical condition. Never disregard the advice of a medical professional, or delay in seeking it because of something you have read on this website.